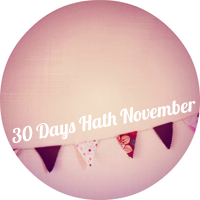 Making up for lost time-
Day 5: Three years ago today, I... was newly Texan. My Guy moved in August from Tucson and I came in October so I could finish out some special events. We were supposed to be apart until December, after the holiday events, but my living arrangement fell through and it got too difficult and expensive to try to be loyal to the organization. I felt like such a jerk for leaving early, I was so stressed about not having the time lined up to job search sufficiently and by early November, I was working at a furniture store, selling high end ugly gawdy sofas and working part time at the Gap. It was rotten. I hated it. Fortunately, it was very easy to stick it out until mid-December, and when I went home to Ohio, I snuck out my personal effects and sent an email saying it wasn't a good fit for me and I wouldn't be returning. Two months later, I got hooked up with boss lady through a friend.
Day 6: A Book I'm Reading... I haven't had any time to really read lately, but my bookmark is still nestled in
Ron Rash's
"The World Made Straight," which is about a young guy in rural Appalachia. Rash's story-telling is interesting because he weaves together a little information from the past here and a bit of direct narrative there, which all comes together at a certain point. And his characters are intricate and real, their stories just a little bit heartbreaking, his written dialect superb.
Day 7: A song for the day...
"Eet" by Regina Spektor.
I adore her. No real reason this song stuck out in particular as I was listening to the album this morning, but it's the one that stuck. Her first few albums are a little more "weird" and avant garde than
Far
, which "Eet" is on, but I almost like them better.
Far
is a little more produced, more instruments, not just Regina and piano the way other albums like
Songs
are, but it is a nice transition into a more public eye.
Back tomorrow with more regular posting!